Hot off the Press
Those Blessed Leaders: The Relevance of the Beatitudes to the Way We Lead
(Regent College Publishing)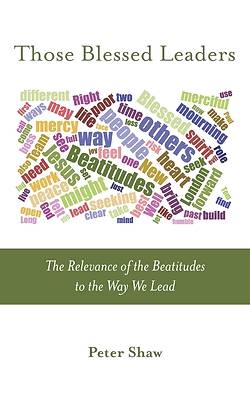 "The Beatitudes, seen as touchstones for reflection, provide insights about the way we might think and act in a range of different situations...the Beatitudes can help build our approach in different situations and enable us to reframe how we respond to the myriad of pressures we are addressing as leaders."
Have you ever considered how the Beatitudes can inform your leadership? Peter Shaw's new book does exactly that!
The Beatitudes are a profound set of truths that transcend different cultures. They provide a challenging set of touchstones for any leader, whatever their context. They call for an approach of heart and mind that seeks to bring clarity, compassion, gentleness, doing the right thing, mercy, purity, peace-making, and an acceptance that sometimes as a leader you will feel persecuted.
The Beatitudes shake who we are to the core and require us to address our mindset, predilections, and prejudices. They shape our character as we tackle demanding leadership challenges in uncertain and potentially painful times. They provide a valuable perspective on leading well and help us shape our authentic leadership character and voice going forward.
Those Blessed Leaders: The Relevance of the Beatitudes to the Way We Lead is available to purchase through the Regent College Bookstore, Amazon.ca, and Amazon.com (this is a rare case in which your Amazon purchase actually supports the ongoing work of our store via our Regent Publishing arm).
Dr. Peter Shaw is an Executive Coach, Regent graduate, and frequent professor at Regent College's Summer School and in the Masters of Arts in Leadership, Theology, and Society (MALTS) program along with being a prolific author specializing in leadership and the marketplace.