New Books
New and Noteworthy Summer and Fall 2021
Check out these newly-released and forthcoming titles that we're excited about! If you are interested in any of these (including pre-ordering forthcoming titles), please give us a call at 604-228-1820 or send us an email ([email protected]).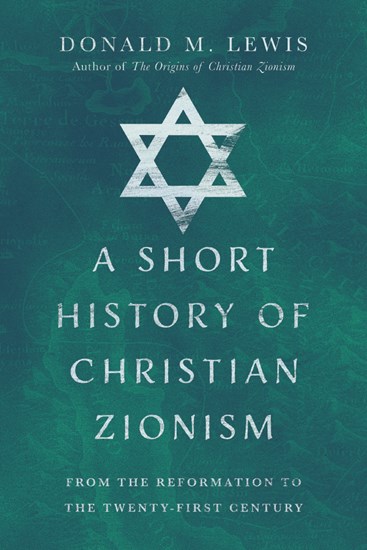 A Short History of Christian Zionism From the Reformation to the Twenty-First Century
IVP Press
August 2021
This book is about an idea—namely, that Scripture mandates a Jewish return to the historical region of Palestine—which in turn morphed into a political movement, rallied around a popular slogan ("A country without a nation for a nation without a country"), and eventually contributed to the establishment of the state of Israel in 1948. Christian Zionism continues to influence global politics, especially U.S. foreign policy, and has deeply affected Jewish–Christian and Muslim–Christian relations.
Donald M. Lewis seeks to provide a fair-minded, longitudinal study of this dynamic yet controversial movement as he traces its lineage from biblical sources through the Reformation to various movements of today. He explores Christian Zionism's interaction with other movements, forces, and discourses, especially in eschatological and political thought, and why it is now flourishing beyond the English-speaking world. Throughout he demonstrates how it has helped British and American Protestants frame and shape their identity.
A Short History of Christian Zionism seeks to bring clarity and context to often-heated discussions.
Available for in-store purchase only.
---
First Nations Version: An Indigenous Translation of the New Testament
IVP Press
August 2021
★ Publishers Weekly starred review.
"The Great Spirit loves this world of human beings so deeply he gave us his Son—the only Son who fully represents him. All who trust in him and his way will not come to a bad end, but will have the life of the world to come that never fades—full of beauty and harmony. Creator did not send his Son to decide against the people of this world, but to set them free from the worthless ways of the world." John 3:16-17
"Love is patient and kind. Love is never jealous. It does not brag or boast. It is not puffed up or big-headed. Love does not act in shameful ways, nor does it care only about itself. It is not hot-headed, nor does it keep track of wrongs done to it. Love is not happy with lies and injustice, but truth makes its heart glad. Love keeps walking even when carrying a heavy load. Love keeps trusting, never loses hope, and stands firm in hard times. The road of love has no end." 1 Corinthians 13:4-8
Many First Nations tribes communicate with the cultural and linguistic thought patterns found in their original tongues. The First Nations Version (FNV) recounts the Creator's Story—the Christian Scriptures—following the tradition of Native storytellers' oral cultures. This way of speaking, with its simple yet profound beauty and rich cultural idioms, still resonates in the hearts of First Nations people.
The FNV is a dynamic equivalence translation that captures the simplicity, clarity, and beauty of Native storytellers in English, while remaining faithful to the original language of the New Testament. Whether you are Native or not, you will experience the Scriptures in a fresh and new way.
Available for in-store purchase only.
---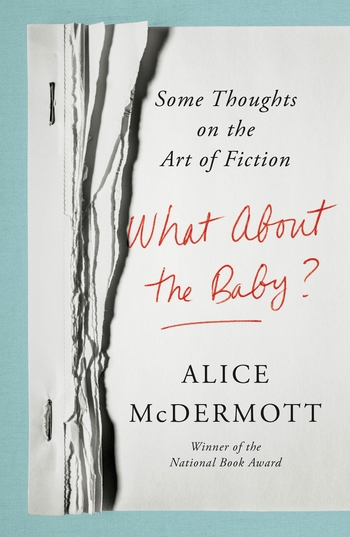 WHAT ABOUT THE BABY? Some Thoughts on the Art of Fiction
Farrar, Straus and Giroux
August 2021
What About the Baby? Some Thoughts on the Art of Fiction
gathers the bestselling novelist Alice McDermott's pithiest wisdom about her chosen art, acquired over a lifetime as an acclaimed writer and teacher of writing.
From technical advice ("check that your verbs aren't burdened by unnecessary hads and woulds") to setting the bar ("I expect the fiction I read to carry with it the conviction that it is written with no other incentive than that it must be written"), from the demands of readers ("they'd been given a story with a baby in it, and they damn well wanted that baby accounted for") to the foibles of public life ("I've never subscribed to the notion that a film adaptation is the final imprimatur for a work of fiction, despite how often I've been told by encouraging friends and strangers, 'Maybe they'll make a movie of your novel,' as if I'd been aiming for a screenplay all along but somehow missed the mark and wrote a novel by mistake"), McDermott muses trenchantly and delightfully about the craft of fiction.

She also serves throughout as the artful conductor of a literary chorus, quoting generously from the work of other great writers (including Tolstoy, Shakespeare, Nabokov, Morrison, and Woolf ), beautifully joining her voice with theirs. These stories of lessons learned and books read, and of the terrors and the joys of what she calls "this mad pursuit," form a rich and valuable sourcebook for readers and writers alike: a deeply charming meditation on the unique gift that is literature.
Available for in-store purchase only.
---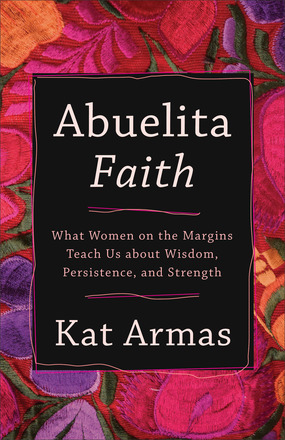 Abuelita Faith: What Women on the Margins Teach Us about Wisdom, Persistence, and Strength
Brazos Press
August 2021
What if some of our greatest theologians wouldn't be considered theologians at all?
Kat Armas, a second-generation Cuban American, grew up on the outskirts of Miami's famed Little Havana neighborhood. Her earliest theological formation came from her grandmother, her abuelita, who fled Cuba during the height of political unrest and raised three children alone after her husband passed away. Combining personal storytelling with biblical reflection, Armas shows us how voices on the margins--those often dismissed, isolated, and oppressed because of their gender, socioeconomic status, or lack of education--have more to teach us about following God than we realize.

Abuelita Faith tells the story of unnamed and overlooked theologians in society and in the Bible--mothers, grandmothers, sisters, and daughters--whose survival, strength, resistance, and persistence teach us the true power of faith and love. The author's exploration of abuelita theology will help people of all cultural and ethnic backgrounds reflect on the abuelitas in their lives and ministries and on ways they can live out abuelita faith every day.
Available for in-store purchase only.
---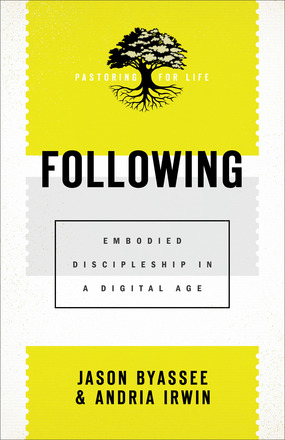 Following: Embodied Discipleship in a Digital Age
Baker Academic
August 2021
This book offers theological perspectives on the challenges of discipleship in a digital age, showing how new technologies and the rise of social media affect the way we interact with each other, ourselves, and the world. Written by a Gen X digital immigrant and a Millennial digital native,
Following
explores a faithful response to today's technology as we celebrate our embodied roles as followers of Christ in a disembodied time. The authors demonstrate how the ancient practices of our faith, such as fasting, observing the Sabbath, and monasticism, can help us understand and manage our addiction to the newest tools.

About the Series
Pastors are called to help people navigate the profound mysteries of being human, from birth to death and everything in between. This series, edited by leading pastoral theologian Jason Byassee, provides pastors and pastors-in-training with rich theological reflection on the various seasons that make up a human life, helping them minister with greater wisdom and joy.
Available for in-store purchase only.
---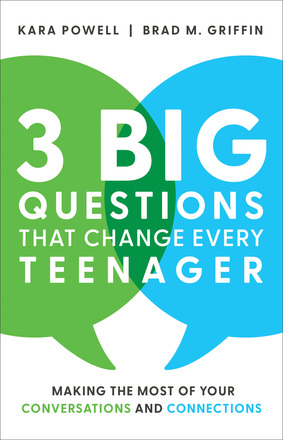 3 Big Questions That Change Every Teenager: Making the Most of Your Conversations and Connections
Baker Books
August 2021
Today's teenagers are the most anxious, creative, and diverse generation in history--which can make it hard for us to relate. While every teenager is a walking bundle of questions, three rise above the rest:

· Who am I?
· Where do I fit?
· What difference can I make?

Young people struggle to find satisfying and life-giving answers to these questions on their own. They need caring adults willing to lean in with empathy, practice listening, and gently point them in the direction of better answers: they are enough because of Jesus, they belong with God's people, and they are invited into God's greater story.

In this book, which is based on new landmark research from the Fuller Youth Institute and in-depth interviews with data from 2,200 diverse teenagers, Kara Powell and Brad M. Griffin offer you practical and proven conversations and connections to help the teenagers in your home, your ministry, your classroom, or your neighborhood answer their three biggest questions and reach their full potential.
Available for in-store purchase only.
---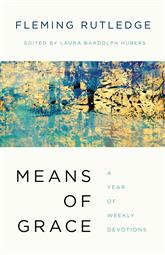 Means of Grace: A Year of Weekly Devotions
Eerdmans
August 2021
"I bring you news of a living reality that changes everything. Jesus has come; Jesus will come. Whatever your own personal darkness, it has been and will be overcome."
Means of Grace is a weekly devotional culled from the sermons of beloved pastor and theologian Fleming Rutledge, organized according to the framework of the liturgical calendar. Each entry, compiled and edited by Rutledge's friend Laura Bardolph Hubers, begins with a biblical passage and ends with a short prayer.
Those familiar with Rutledge's work will recognize both her genuine empathy for human experience and her deep reverence for God. Anyone longing for the wise pastoral guidance of an adept veteran preacher—one who views Scripture not as bland life lessons or timeless teaching but as "the living God present and acting in the story of redemption"—will find here a meaningful companion through the seasons of their spiritual journey that they can return to year after year.
Available for in-store purchase only.
---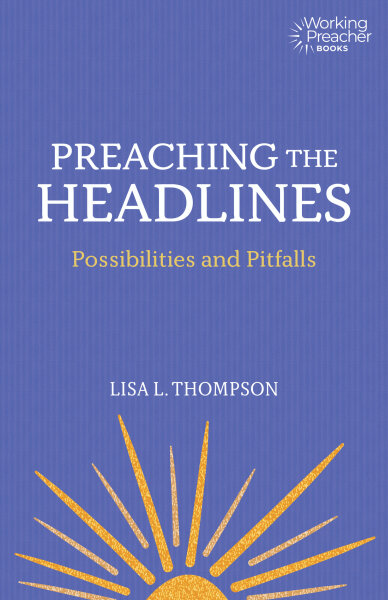 Preaching the Headlines: Possibilities and Pitfalls
Fortress Press
August 2021
Preachers often feel stuck when met with quickly shifting and dense media topics that flood the headlines. If and when they determine it is appropriate to address issues that arise in the news cycle, they are often at a loss for how to speak about them from the pulpit. When preachers understand that a responsibility to sustain life is embedded in the purposes of preaching, they discover greater fluidity between the everyday world, the biblical text, and preaching itself. Preaching the Headlines reframes preaching as an ongoing conversation between the modern world and the world of the Bible, exploring where the divides between the two may be less rigid than we often acknowledge. The preacher uses what they know about life as a bridge to the text, while life in the text provides the bridge back to faith in the contemporary world.
The goal of the book is to help preachers do theological reflection on the everyday world as an integral part of sermon development. The process offered in this book is not a substitute for basic methods of sermon development nor a model of exegesis for preaching. Preachers will use this process as a supplement alongside their current method of sermon preparation. Before the preacher can ever translate the meaning embedded in the headlines, they have to learn more about the topics they seek to preach about. They do this by digging behind the headlines and expanding their own resources beyond theological traditions alone. This work is done in order to think earnestly about how faith might spur transformative action in our world for more just ways of living together.
Available for in-store purchase only.
---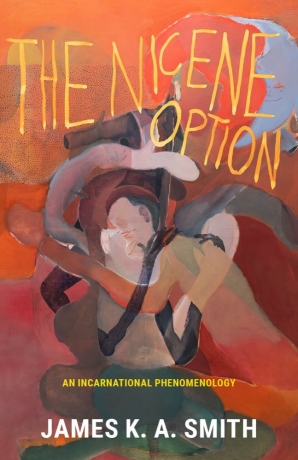 The Nicene Option: An Incarnational Phenomenology
Baylor University Press
August 2021
Christian philosophy and philosophy of religion tend to be dominated by analytic approaches, which have brought a valuable logical rigor to the discussion of matters of belief. However, the perspectives of continental philosophy—in particular, the continental emphasis on embodied forms of knowing—still have much to offer to the conversation and our understanding of what it means to be both rational and faithful in a postmodern world.
The Nicene Option represents the full sweep of James K. A. Smith's work in continental philosophy of religion over the past twenty years. Animated by the conviction that a philosophy of religion needs to be philosophical reflection on the practice of religion, as a "form of life" (as Wittgenstein would say), this book makes the case for the distinct contribution that phenomenology—as a philosophy of experience—can make to philosophy of religion and Christian philosophy. Engaging a range of philosophers in this tradition, including Edmund Husserl, Martin Heidegger, Jacques Derrida, Emmanuel Levinas, Maurice Merleau-Ponty, Jean-Luc Marion, Richard Rorty, and Charles Taylor, Smith's constructive proposal coheres around what he describes as "the logic of incarnation," a "Nicene option" in contemporary philosophy of religion. By grounding philosophy of religion in the doctrinal heart of Christian confession, Smith gestures toward a uniquely robust Christian philosophy.
Besides issuing a clarion call for the renaissance of continental philosophy of religion, The Nicene Option also offers a glimpse behind the scholarly curtain for a wider audience of readers familiar with Smith's popular works such as Who's Afraid of Postmodernism?, Desiring the Kingdom, Imagining the Kingdom, and You Are What You Love—all of which are tacitly informed by the phenomenological approach articulated in this book. As an extended footnote to those works—which for many readers have been gateways to philosophy— The Nicene Option presents an invitation to a new depth of reflection.
Available for in-store purchase only.
---
Five Things Theologians Wish Biblical Scholars Knew
IVP Press
September 2021
The disciplines of theology and biblical studies should serve each other, and they should serve both the church and the academy together. But the relationship between them is often marked by misunderstandings, methodological differences, and cross-discipline tension.
Theologian Hans Boersma here highlights five things he wishes biblical scholars knew about theology. In a companion volume, biblical scholar Scot McKnight reflects on five things he wishes theologians knew about biblical studies. With an irenic spirit as well as honesty about differences that remain, Boersma and McKnight seek to foster understanding between their disciplines through these books so they might once again collaborate with one another.
Available for in-store purchase only.
---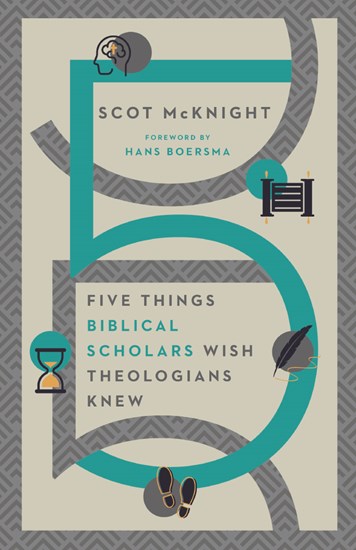 Five Things Biblical Scholars Wish Theologians Knew
IVP Press
September 2021
The disciplines of biblical studies and theology should serve each other, and they should serve both the church and the academy together. But the relationship between them is often marked by misunderstandings, methodological differences, and cross-discipline tension.
New Testament scholar Scot McKnight here highlights five things he wishes theologians knew about biblical studies. In a companion volume, theologian Hans Boersma reflects on five things he wishes biblical scholars knew about theology. With an irenic spirit as well as honesty about differences that remain, McKnight and Boersma seek to foster understanding between their disciplines through these books so they might once again collaborate with one another.
Available for in-store purchase only.
---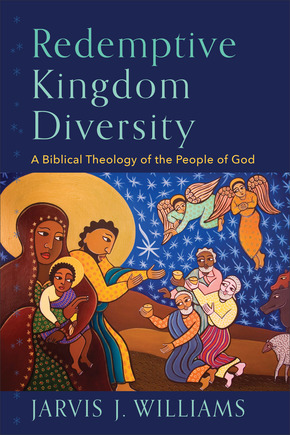 Redemptive Kingdom Diversity: A Biblical Theology of the People of God
Baker Academic
September 2021
This book provides a comprehensive biblical and theological survey of the people of God in the Old and New Testaments, offering insights for today's transformed and ethnically diverse church. Jarvis Williams explains that God's people have always been intended to be a diverse community. From Genesis to Revelation, God has intended to restore humanity's vertical relationship with God, humanity's horizontal relationship with one another, and the entire creation through Jesus. Through Jesus, both Jew and gentile are reconciled to God and together make up a transformed people.

Williams then applies his biblical and theological analysis to selected aspects of the current conversation about race, racism, and ethnicity, explaining what it means to be the church in today's multiethnic context. He argues that the church should demonstrate redemptive kingdom diversity, for it has been transformed into a new community that is filled with many diverse ethnic communities.
Available for in-store purchase only.
---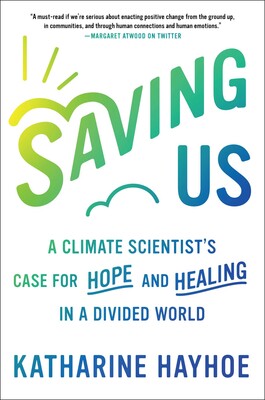 Saving Us: A Climate Scientist's Case for Hope and Healing in a Divided World
Simon & Schuster
September 2021
United Nations Champion of the Earth, climate scientist, and evangelical Christian Katharine Hayhoe changes the debate on how we can save our future.

Called "one of the nation's most effective communicators on climate change" by The New York Times, Katharine Hayhoe knows how to navigate all sides of the conversation on our changing planet. A Canadian climate scientist living in Texas, she negotiates distrust of data, indifference to imminent threats, and resistance to proposed solutions with ease. Over the past fifteen years Hayhoe has found that the most important thing we can do to address climate change is talk about it—and she wants to teach you how.

In Saving Us, Hayhoe argues that when it comes to changing hearts and minds, facts are only one part of the equation. We need to find shared values in order to connect our unique identities to collective action. This is not another doomsday narrative about a planet on fire. It is a multilayered look at science, faith, and human psychology, from an icon in her field—recently named chief scientist at The Nature Conservancy. Drawing on interdisciplinary research and personal stories, Hayhoe shows that small conversations can have astonishing results. Saving Us leaves us with the tools to open a dialogue with your loved ones about how we all can play a role in pushing forward for change.
Available for in-store purchase only.
---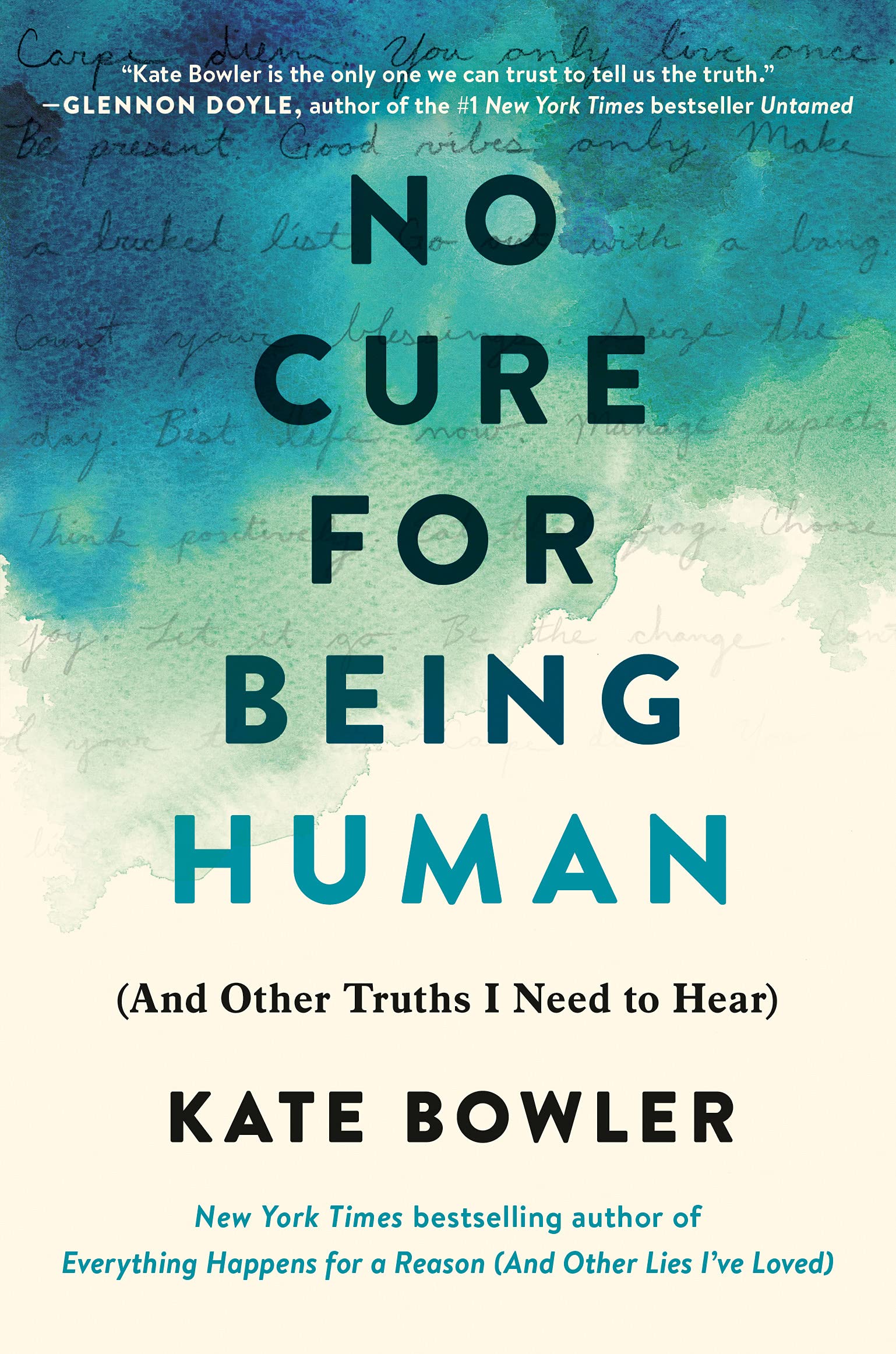 No Cure for Being Human (And Other Truths I Need to Hear)
Random House
September 2021
It's hard to give up on the feeling that the life you really want is just out of reach. A beach body by summer. A trip to Disneyland around the corner. A promotion on the horizon. Everyone wants to believe that they are headed toward good, better, best. But what happens when the life you hoped for is put on hold indefinitely?
Kate Bowler believed that life was a series of unlimited choices, until she discovered, at age 35, that her body was wracked with cancer. In No Cure for Being Human, she searches for a way forward as she mines the wisdom (and absurdity) of today's "best life now" advice industry, which insists on exhausting positivity and on trying to convince us that we can out-eat, out-learn, and out-perform our humanness. We are, she finds, as fragile as the day we were born.
With dry wit and unflinching honesty, Kate Bowler grapples with her diagnosis, her ambition, and her faith as she tries to come to terms with her limitations in a culture that says anything is possible. She finds that we need one another if we're going to tell the truth: Life is beautiful and terrible, full of hope and despair and everything in between—and there's no cure for being human.
Available for in-store purchase only.
---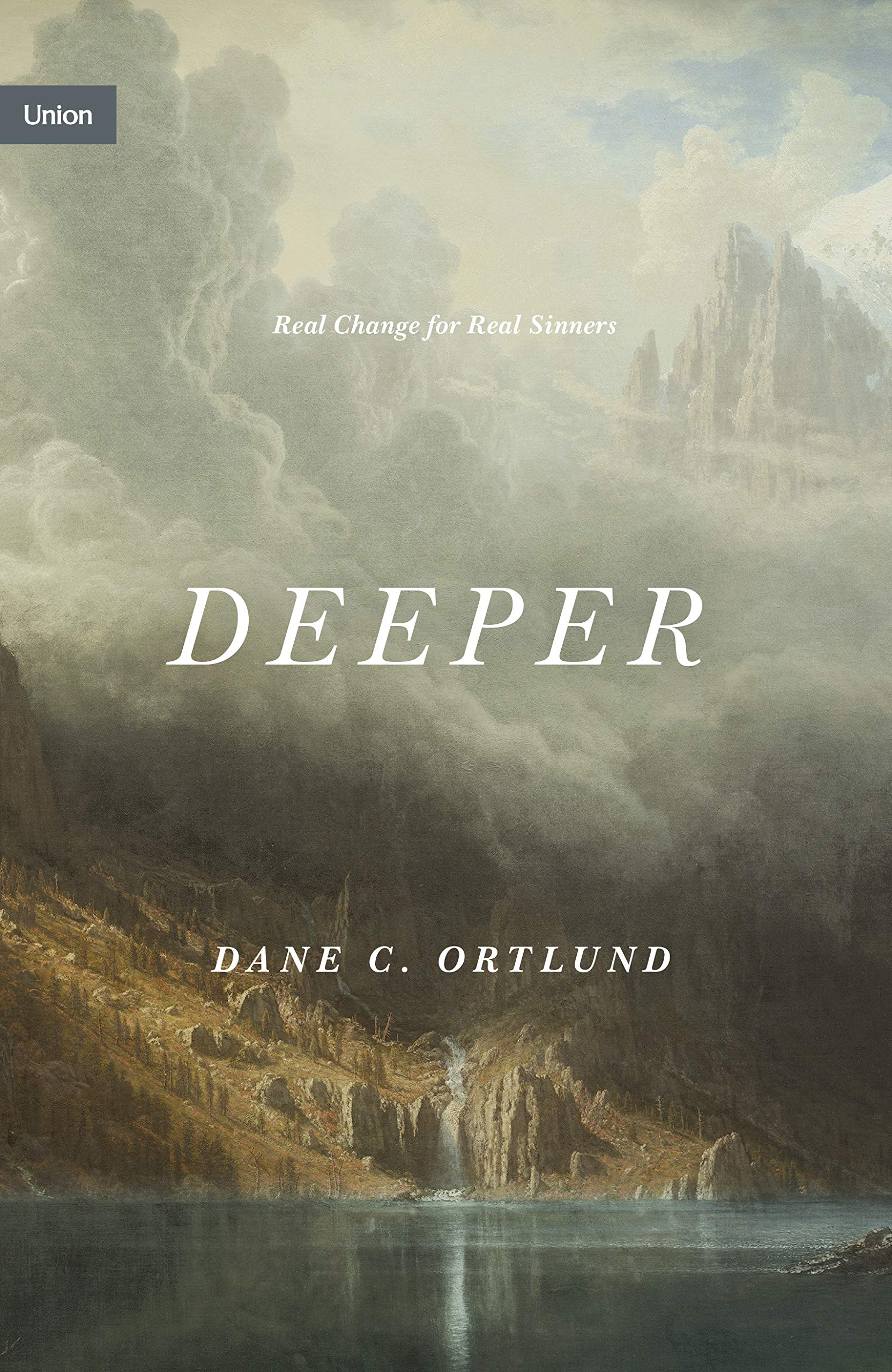 Deeper: Real Change for Real Sinners
Crossway Books
September 2021
"Grow in the grace and knowledge of our Lord and Savior Jesus Christ." —2 Peter 3:18
How do Christians grow? Few question the call of the Bible to grow in godliness, but the answer to exactly how this happens is often elusive. In this book, Dane Ortlund points believers to Christ, making the case that sanctification does not happen by doing more or becoming better, but by going deeper into the wondrous gospel truths that washed over them when they were first united to him.
Drawing on wisdom from figures throughout church history, Ortlund encourages readers to fix their gaze on Jesus in the battle against sin, casting themselves upon his grace and living out their invincible identity in Christ.
Available for in-store purchase only.
---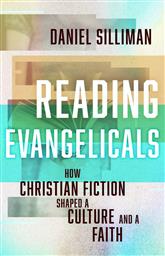 Reading Evangelicals: How Christian Fiction Shaped a Culture and a Faith
Eerdmans
October 2021
The story of five best-selling novels beloved by evangelicals, the book industry they built, and the collective imagination they shaped
Who are evangelicals? And what is evangelicalism? Those attempting to answer these questions usually speak in terms of political and theological stances. But those stances emerge from an evangelical world with its own institutions—institutions that shape imagination as much as they shape ideology.
In this unique exploration of evangelical subculture, Daniel Silliman shows readers how Christian fiction, and the empire of Christian publishing and bookselling it helped build, is key to understanding the formation of evangelical identity. With a close look at five best-selling novels—Love Comes Softly, This Present Darkness, Left Behind, The Shunning, and The Shack—Silliman considers what it was in these books that held such appeal and what effect their widespread popularity had on the evangelical imagination.
Reading Evangelicals ultimately makes the case that the worlds created in these novels reflected and shaped the world evangelicals saw themselves living in—one in which romantic love intertwines with divine love, humans play an active role in the cosmic contest between angels and demons, and the material world is infused with the literal workings of God and Satan. Silliman tells the story of how the Christian publishing industry marketed these ideas as much as they marketed books, and how, during the era of the Christian bookstore, this—every bit as much as politics or theology—became a locus of evangelical identity.
Available for in-store purchase only.
---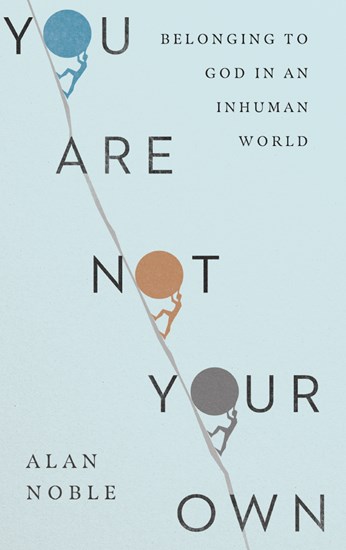 You Are Not Your Own Belonging to God in an Inhuman World
IVP Press
October 2021
"You are your own, and you belong to yourself."
This is the fundamental assumption of modern life. And if we are our own, then it's up to us to forge our own identities and to make our lives significant.
But while that may sound empowering, it turns out to be a crushing responsibility—one that never actually delivers on its promise of a free and fulfilled life, but instead leaves us burned out, depressed, anxious, and alone. This phenomenon is mapped out onto the very structures of our society, and helps explain our society's underlying disorder.
But the Christian gospel offers a strikingly different vision. As the Heidelberg Catechism puts it, "I am not my own, but belong with body and soul, both in life and in death, to my faithful Savior Jesus Christ." In You Are Not Your Own, Alan Noble explores how this simple truth reframes the way we understand ourselves, our families, our society, and God. Contrasting these two visions of life, he invites us past the sickness of contemporary life into a better understanding of who we are and to whom we belong.
Available for in-store purchase only.
---
A Theology of Paul and His Letters: The Gift of the New Realm in Christ
Zondervan Academic
October 2021
A landmark study of the apostle's writings by one of the world's leading Pauline scholars
This highly anticipated volume gives pastors, scholars, and all serious students of the New Testament exactly what they need for in-depth study and engagement with one of Christian history's most formative thinkers and writers. A Theology of Paul and His Letters is a landmark study of the apostle's writings by one of the world's leading Pauline scholars Douglas J. Moo. Fifteen years in the making, this groundbreaking work is organized into three major sections:
Part 1 provides an overview of the issues involved in doing biblical theology in general and a Pauline theology in particular. Here Moo also sets out the methodological issues, formative influences, and conceptual categories of Paul's thought.
Part 2 moves on to Paul's New Testament writings, where Moo describes each Pauline letter with particular relevance to its theology.
Part 3 offers a masterful synthesis of Paul's theology under the overarching theme of the gift of the new realm in Christ.
Engaging, insightful, and wise, this substantive, evangelical treatment of Paul's theology offers extensive engagement with the latest Pauline scholarship without sacrificing its readability. This volume brings insights from over thirty years of experience studying, teaching, and writing about Paul into one comprehensive guide that will serve readers as a go-to resource for decades to come.
ABOUT THE SERIES: The Biblical Theology of the New Testament (BTNT) series provides upper college and seminary-level textbooks for students of New Testament theology, interpretation, and exegesis. Pastors and discerning theology readers alike will also benefit from this series. Written at the highest level of academic excellence by recognized experts in the field, the BTNT series not only offers a comprehensive exploration of the theology of every book of the New Testament, including introductory issues and major themes, but also shows how each book relates to the broad picture of New Testament Theology.
Available for in-store purchase only.
---
The Letter to the Romans: A Short Commentary
Eerdmans
October 2021
In the wake of his widely appreciated commentaries on the Gospel of Matthew and the Gospel of John, noted theologian and exegete Frederick Dale Bruner turns his attention to Paul's letter to the Romans. In this concise commentary, he relays his findings on what he calls the "Fifth Gospel" and its central claim that "through the Father's love, Jesus's passion, and the Spirit's application of this passionate love, human beings can have a perfectly right relationship with God—by simple faith in His Christ."
As he did in his commentaries on Matthew and John, Bruner engages historical interpreters from the patristic period to the present—including Augustine, Chrysostom, Aquinas, Luther, and Calvin—while also offering his own lucid translation of the text and relevant pastoral applications. The result is a holistic understanding of the book of Romans informed not only by one scholar's lifetime of ministry, teaching, and learning, but also by the full depth and breadth of church tradition.
Available for in-store purchase only.
---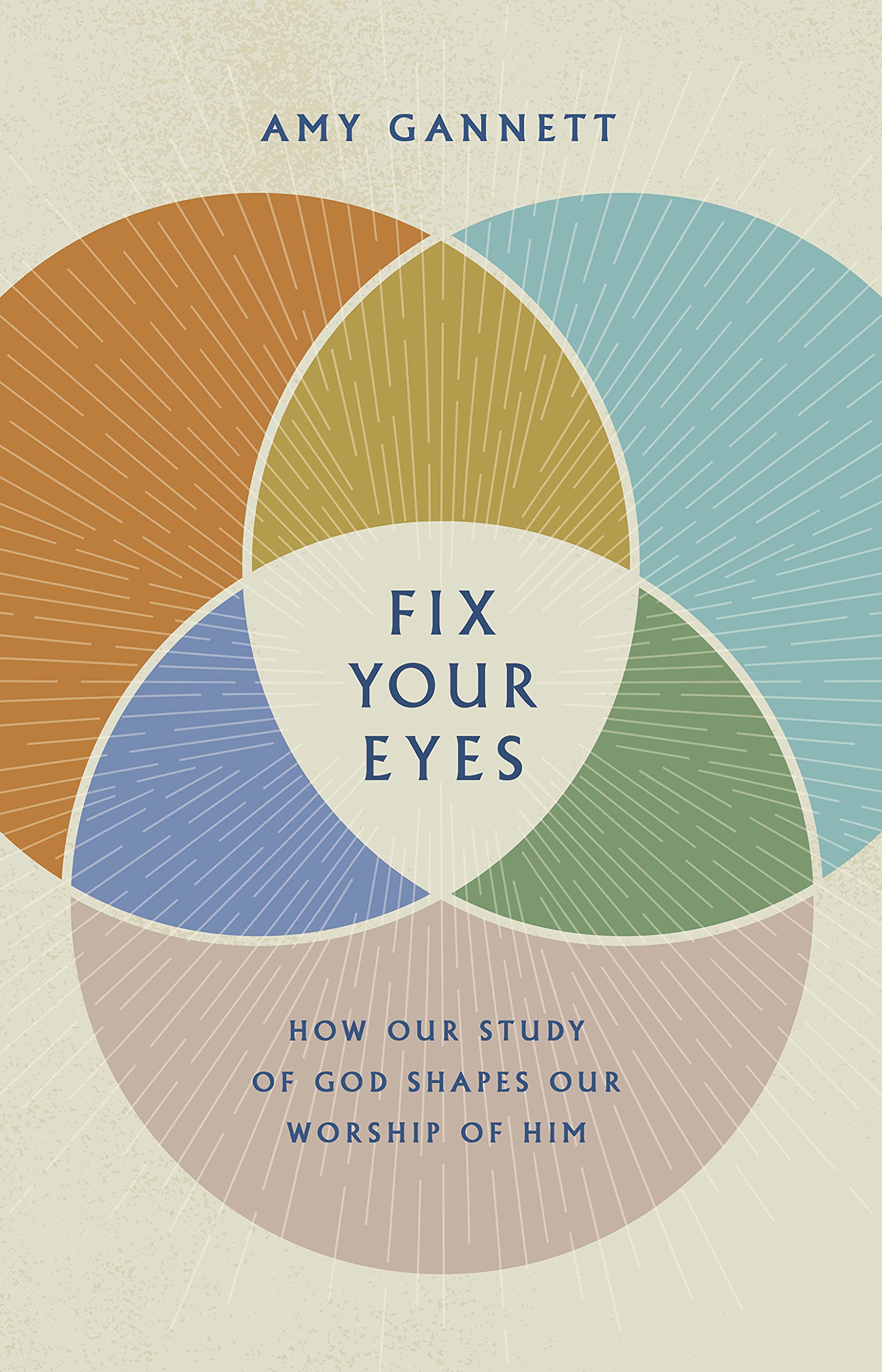 Fix Your Eyes: How Our Study of God Shapes Our Worship of Him
B&H Books
October 2021
We live in a polarized time. Christians are quick to conceive of themselves either as theologically-minded or worship-minded; either thinking Christians or feeling Christians. The results are damaging: theology without worship is muted, stifled, and cold, and worship without theology is ungrounded, unrooted, and uninformed.
This is not the way it was meant to be.

Theology (our study and knowledge of God) should always lead to doxology (our worship of Him). Worship should always be rooted in theology. When we study the nature and character of God as revealed in his Word, we are invited to respond in the affectionate, obedient discipleship of worship. How can we keep our theology from being mere head knowledge? How do we give our worship roots that will last? By fixing our eyes on God Himself—the object of our study and the object of our worship.

Fix Your Eyes is an invitation to understand core doctrines of the Christian faith and apply them in our daily worship of God. It walks believers through key theological concepts and shows how each can be lived out in daily life.
Available for in-store purchase only.
---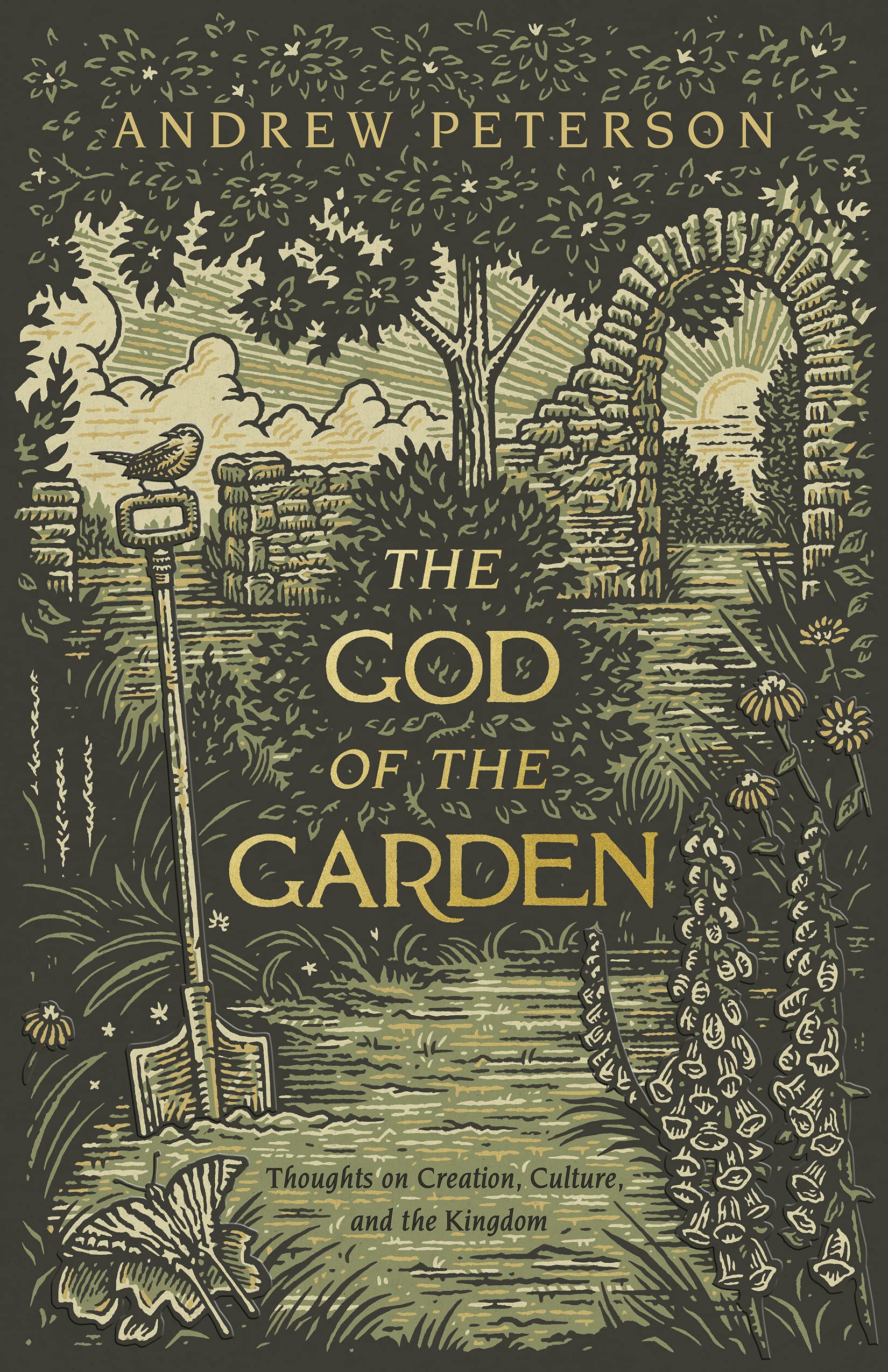 The God of the Garden: Thoughts on Creation, Culture, and the Kingdom
B&H Books
October 2021
There's a strong biblical connection between people and trees. They both come from dirt. They're both told to bear fruit. In fact, arboreal language is so often applied to humans that it's easy to miss, whether we're talking about family trees, passing along our seed, cutting someone off like a branch, being rooted to a place, or bearing the fruit of the Spirit. It's hard to deny that trees mean something, theologically speaking.

This book is in many ways a memoir, but it's also an attempt to wake up the reader to the glory of God shining through his creation.
One of the first commands to Adam and Eve was to "work and keep" the garden. Award-winning author and songwriter Andrew Peterson, being as honest as possible, shares a story of childhood, grief, redemption, and peace, by walking through a forest of memories: "I trust that by telling my story, you'll encounter yours. Hopefully, like me, you'll see that the God of the Garden is and has always been present, working and keeping what he loves."

Sometimes he plants, sometimes he prunes, but in his goodness he intends to reap a harvest of righteousness.
Available for in-store purchase only.
---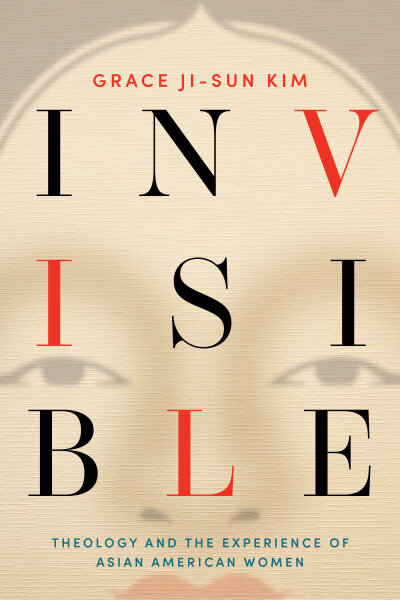 Invisible Theology and the Experience of Asian American Women
Fortress Press
November 2021
Invisibility persists throughout the Asian American story. On the one hand, xenophobia has long contributed to racism and discrimination toward Asian Americans. On the other hand, terms such as perpetual foreigner and honorific whites have been thrust upon Asian Americans, minimizing their plight with racism and erasing their experience as racial minorities. Even more indiscernible in America's racial landscape are Asian American women. The compounded effects of a patriarchal Asian culture and a marginalizing American culture are formidable, steadily removing the recognition of these women's lives, voices, and agency.
Invisibility is not only a racial and cultural issue, but also a profound spiritual issue. The Western church--and its theology--has historically obscured the concerns of Asian Americans. The Asian American church relegates women to domestic, supportive roles meant to uplift male leaders.

In Invisible, Grace Ji-Sun Kim examines encounters with racism, sexism, and xenophobia as she works toward ending Asian American women's invisibility. She deploys biblical, sociological, and theological narratives to empower the voices of Asian American women. And she shares the story of her heritage, her family history, her immigration, and her own experience as an Asian American woman. Speaking with the weight of her narrative, she proclaims that the histories, experiences, and voices of Asian American women must be rescued from obscurity. Speaking with the weight of a theologian, she powerfully paves the way for a theology of visibility that honors the voice and identity of these women. As Asian American women work toward a theology of visibility, they uplift the voiceless and empower the invisible, moving beyond experiences of oppression and toward claiming their space in the kin-dom of God.
Available for in-store purchase only.
---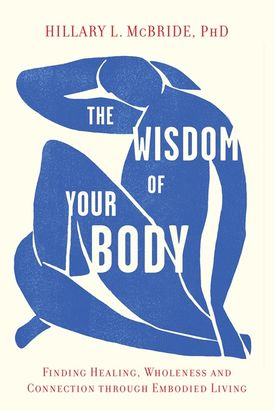 The Wisdom of Your Body: Finding Healing, Wholeness, and Connection through Embodied Living
Harper Collins Canada
November 2021
From the host of the hit CBC podcast Other People's Problems comes an invitation to unlearn the lies about your body that make you feel less-than, and to learn to love the home where your life happens
In The Wisdom of Your Body, clinical therapist and award-winning researcher Dr. Hillary McBride offers a pathway from disconnection to embodied living by making peace with the living, breathing story of who you are. Packed with illuminating research and stories from her work and her deeply personal journey of healing from a life-threatening eating disorder, a car wreck EMTs thought she wouldn't walk away from and chronic pain, McBride offers meaningful insights about why our relationship with our bodies matters for the quality of our whole lives. A specialist in embodiment practices, McBride shares truths and tools to help you embrace the whole of yourself and, in turn, experience your life to the fullest.
This book will show you:
· how to unlearn the lies about your body that hold you back from the life you were meant to live
· practices for reclaiming your body—and your life—from stress, trauma, appearance ideals and the expectations of others
· how to access the healing that is written into your DNA
· tools for regulating your emotions through physical awareness
For anyone who has ever felt unsafe, unloved or insufficient in their own skin, McBride offers a better path toward health and true acceptance. This is an invitation to live a better story with your body and to come home to the gift of yourself and the wholeness that has been there all along.
Available for in-store purchase only.
---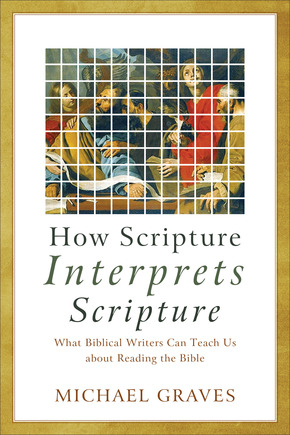 How Scripture Interprets Scripture: What Biblical Writers Can Teach Us about Reading the Bible
Baker Academic
November 2021
This book addresses a topic of vital concern to the church: How does the ancient biblical text speak to us today?
Michael Graves, an expert in ancient exegesis, describes how Old Testament texts interpret earlier Old Testament traditions, explores New Testament reception, and explains how insights from this process translate into present-day biblical interpretation. Graves clearly explains and illustrates this approach with fulsome discussions of five themes that are addressed in various ways in the Bible: personal responsibility; sacrificial offerings; insiders and outsiders; marriage, polygamy, and divorce; and the afterlife. By attending to the way these topics are addressed throughout the entire biblical witness, we become better interpreters and teachers who are more adept at discerning the Bible's teaching on both these topics and others for our modern world.

How Scripture Interprets Scripture will be a valuable resource for professors and students in Bible, exegesis, and hermeneutics courses. It will also appeal to pastors and other leaders who teach the Bible.
Available for in-store purchase only.
---