Events
Introducing Bible Saturday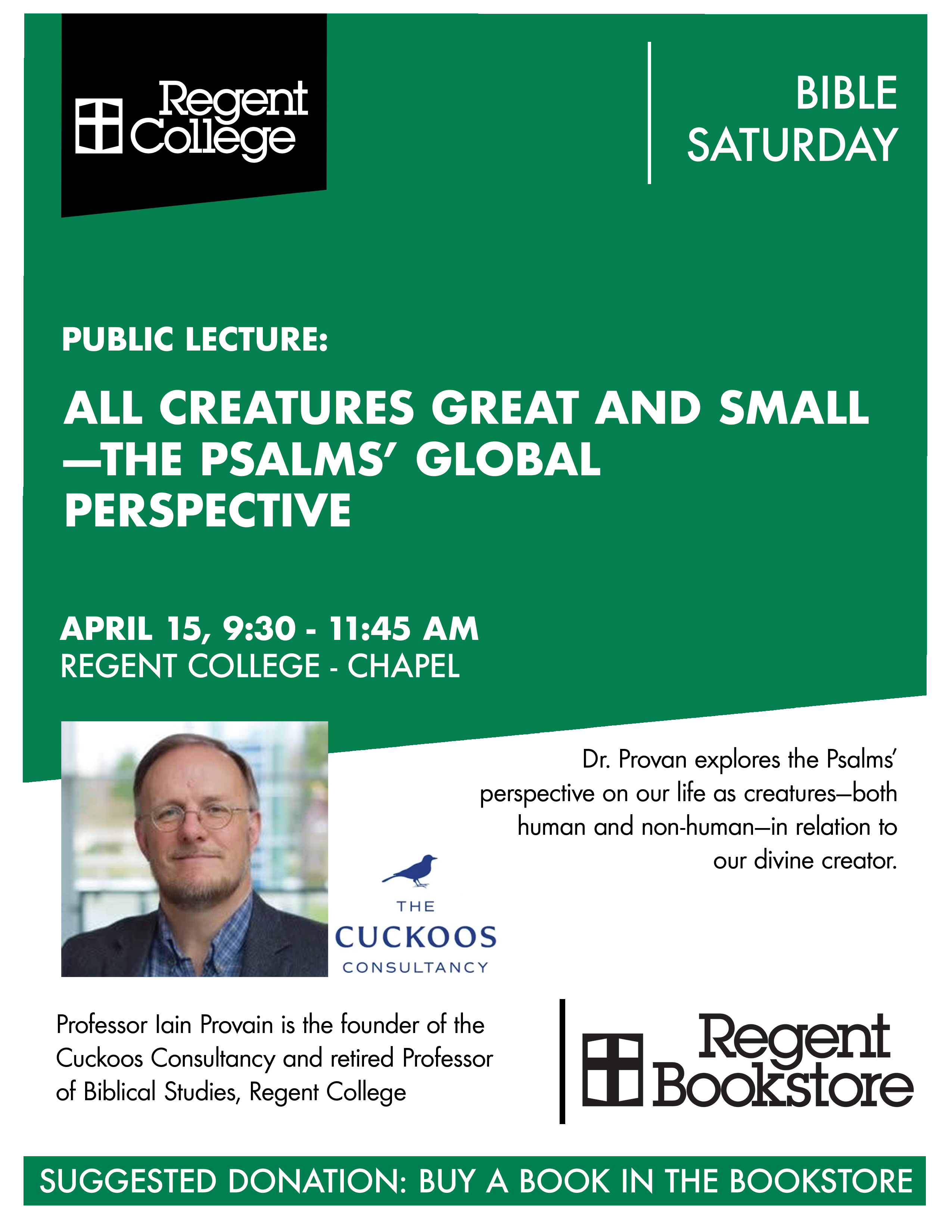 Study the Word with world-class Bible teachers!
Bible Saturday is a new initiative of Regent Bookstore that seeks to study a passage or theme from God's Word with intention, purpose and context. In the spirit of Regent College's emphasis on "Theology for all of life, and for all people," and featuring the quality scholarship of Regent's faculty and friends, these teaching events invite every student of scripture into the life-giving depths of the biblical story.
The inaugural Bible Saturday launched in February with Dr. Paul Spilsbury speaking on "The Apostle Paul and the Gospel of the In-Between", and was followed in March with Dr. George Guthrie exploring "The Beauty and Power of the Old Testament in the New: How the New Testament Authors Read Their Bible." These first two Bible Saturdays were very well received: attendees were enthusiastic in their appreciation and have already started bringing their friends. It is our hope that these accessible, in-depth, and insightful times of studying scripture together will connect Christians together and deepen their commitment to Jesus Christ, his church and his world.
You are warmly invited to join us for our next Bible Saturday on April 15, 2023 from 9:30 am - 11:45 am, featuring Dr. Iain Provan, who will be speaking on
"All Creatures Great and Small - The Psalms' Global Perspective."
These events are open to all without charge, and sustained by your generous support of Regent Bookstore.
You can find more information about upcoming Bible Saturdays through Instagram, Facebook and the Regent Bookstore newsletter. Bible Saturdays in-person only events, and will not be livestreamed. Recordings will be available for purchase from RegentAudio.com in the future